Sea of Green Grow
Cultivar marihuana puede resultar sencillo, necesitas semillas, agua, luz y macetas. Los holandeses en los años setenta crearon un nuevo método de cultivo, llamado Sea of Green Grow para conseguir un rendimiento óptimo en el menor tiempo posible, vamos a conocerlo.
Sea of Green Grow
Si eres cultivador de interior o tienes un indoor casero, buscarás la mayor cantidad de marihuana en el mínimo espacio. Para este desafío, aprovecha el Sea of Green Grow que utiliza muchas plantas pequeñas, acortando la fase de crecimiento, maximizando la eficiencia de la luz 
¿Qué tipos de marihuana son mejores para Sea of Green?
El éxito del cultivo Sea of Green Grow es cultivar en un periodo corto de tiempo, plantas idénticas. Elige el tipo adecuado a tus necesidades, aprovechando una única planta parental. 
Selecciona las autoflorecientes que cambian a floración en pocas semanas, tendiendo a desarrollar ramas de amplio alcance.
Concretando un poco más, cuenta con Super Skunk, Hindu Kush, Afghani #1 y  Northern Lights.
Puedes ver los tipos de semillas de marihuana para decidirte fácilmente
Sea of Green
Pasa de crecimiento a floración, utiliza macetas de 15 cms con capacidad para 6-4 litros. Las plantas llegarán a una altura de 30-50 cm.
Evita colocar las plantas demasiado juntas para eludir el estrés sin perjudicar al crecimiento de los cogollos
Clic para tuitear
Cuando aparecen las primeras hojas pasarás a floración, siendo mejor mantener esta fase de diez a catorce días. 
Recuerda colocar las lámparas altas para no crear puntos calientes, aunque siempre podrás bajar la temperatura del indoor
Cultivo Sog
Si te preguntas cómo conseguir el éxito en tu cultivo Sea Of Green Grow, consiste en tratar a las plantas de la misma forma: iluminación, nutrientes, riego y poda. Utiliza sistemas de goteo para conseguir que las plantas reciban la misma cantidad de nutrientes y agua. 
No quites demasiados ramas y hojas al mismo tiempo para paralizar el crecimiento o dejar de producir cogollos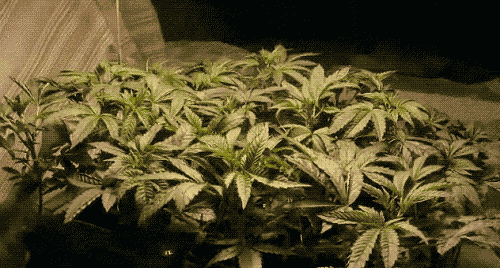 Ventajas y desventajas del cultivo Sea of Green
Habiendo conocido el método de cultivo SOG, valoramos sus beneficios e inconvenientes:
Ventajas
Máximo rendimiento en poco tiempo
Gran número de cosechas por año
Múltiples capas que crecen rápidamente
Sin necesidad de espacio
Adecuado para Índica
Perfecto para cultivadores comerciales
Desventajas
Es necesario más cuidado
Cultivando muchas plantas, puedes tener problemas legales
Las enfermedades y plagas pueden extenderse fácilmente
No es apropiado para combinar Sativa e Índica
Cada método de cultivo puede ser bueno o malo según tu experiencia o formación pero es evidente que el SOG es efectivo. Lo aprovechas… Utilizas otra fórmula, te quedan dudas, anímate y cuéntamelas, muchas gracias